Electrical and automation
Alarm monitoring system
Our integrated Alarm Monitoring System enables efficient alarm monitoring of all class required operations and processes, like propulsion, floating, steering and other safety systems.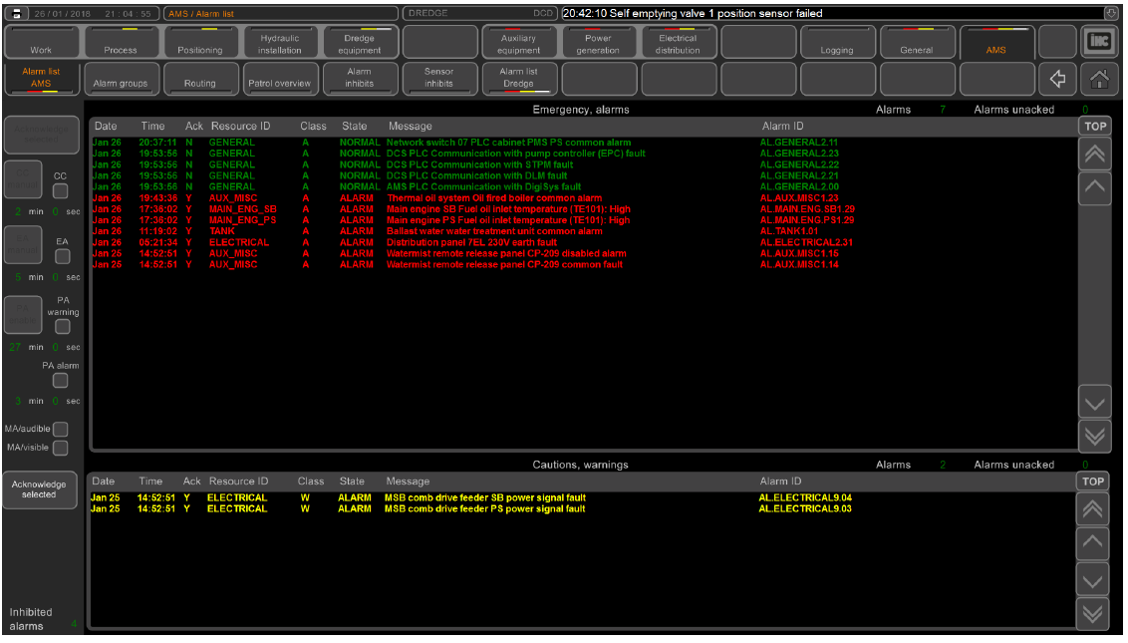 Alarm monitoring system in short
The Alarm Monitoring System (AMS) informs the operator in case of abnormal operational condition and/or failure of machinery or systems under monitoring. The system provides all the class required functionalities like: machinery alarm, engineers alarm, cabin call, patrol alarm and alarm routing. Triggers alarm horns and column lights control based on these functionalities. Active alarms, (un)acknowledged, are stored in the alarm list. 
Benefits of our alarm monitoring system:
a user-friendly, intuitive touch screen focused human machine interface (HMI)  

mimic for process elements assist in finding and presenting information on alarm triggers   

use of standardized commercial off-the-shelf hardware   

integrated with other Royal IHC control and automation systems  

remote servicing, maintenance and software upgrade possibilities 
 
Incorporate proven solutions
The following proven functionalities can be incorporated into our alarm monitoring system. 
alarms classifications: four alarm classes will be defined; emergency (E), alarm (A), warning (W) and caution (C) alarms. 
alarm grouping: including delay and inhibiting of each alarm 
alarm inhibit list  
manned / unmanned machinery space selection. 
tank sounding control and monitoring. 
Code generation  
 In-house developed code generation tool massively reduces required engineering effort for the Alarm Monitoring System (AMS). Besides the obvious positive impact on costs this allows for a delayed design freeze in Engineering-to-Order Processes in shipbuilding.   
Build on reliable technology 
AMS is built on the strong fundamentals of proven and reliable PLC/SCADA technology. The AMS can be delivered as a stand-alone system or as part fully integrated automation solution. The system is built up in a centralised architecture and comprises standard of dedicated hardware and software for network, PLC/IO plus dedicated hardware and software for SCADA HMI viewer and server computers.  Alarm panels (LOP) in cabins, public spaces and bridge are foreseen. 
User-friendly and ergonomically design 
Providing a user-friendly touch screen user interface which can be highly integrated with other control systems like vessel management (VMS), Power management (PMS) or the Dredge control system (DCS). It also interfaces to the VDR.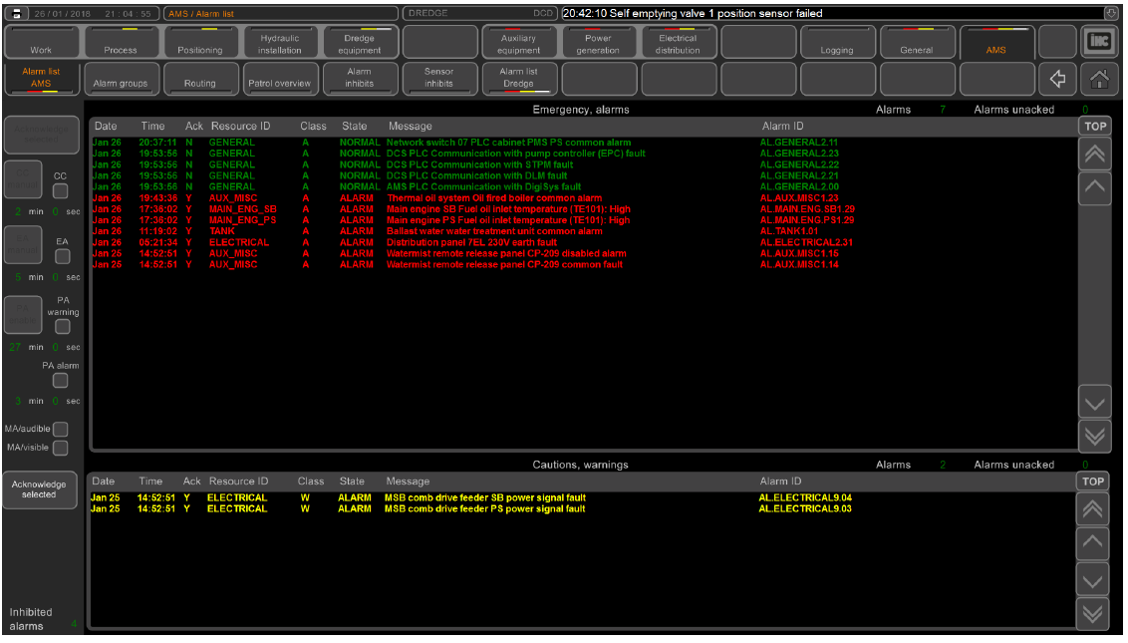 Get in touch and our alarm monitoring experts will help you.