Electrical and automation
Vessel management system
The vessel management system covers all monitoring and control functions for auxiliary machinery from remote control to visualisation of processes and where required automation of auxiliaries.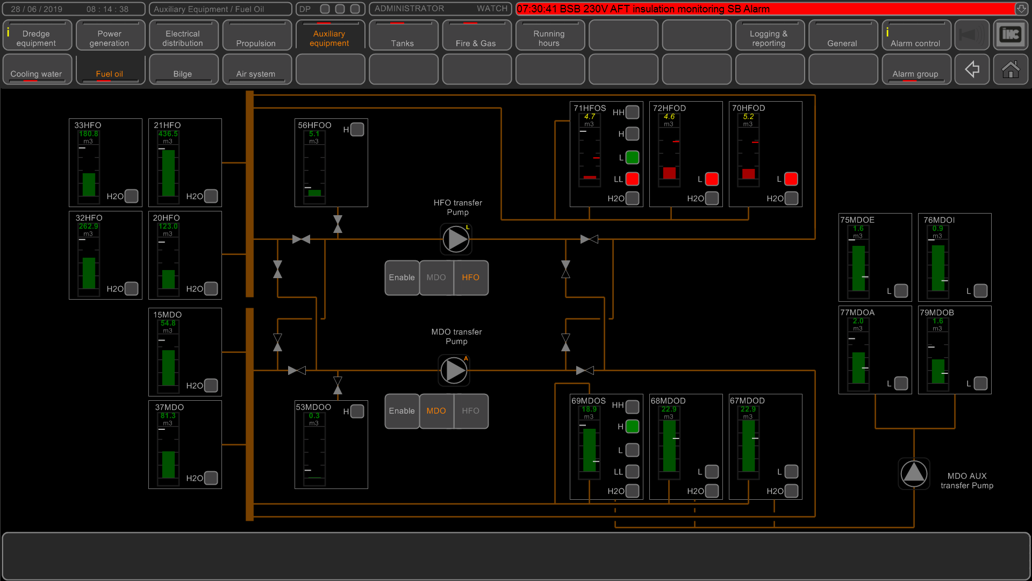 Vessel management system in short
The vessel management system (VMS) includes functions for manual and automatic remote control of pumps and valves and controller loops for auxiliary machinery. The VMS will efficiently manage all auxiliary systems on board. Furthermore, it can be seamlessly integrated with other control systems like dredge control system (DCS) or the power management system (PMS). 
Vessel management system will comply all class related requirements and includes basic control functions for a safe operation such as:
Fire Fighting system 

Bilge and Ballast system 

Fuel Oil System 

Exhaust gas scrubber 

Cooling water system 

Compressed air systems  

Thermal Oil installation 

Heating, Ventilation and Air Conditioning (HVAC) 

Main engine auxiliaries 

Main shaft generator auxiliaries 

Propulsion auxiliaries 

Inboard dredge pump gearbox lubricating oil system 

Jet pump gearbox lubricating oil system 
Code generation 
In-house developed code generation tool massively reduces required engineering effort for the VMS. Besides the obvious positive impact on costs this allows for a delayed design freeze in Engineering-to-Order Processes in shipbuilding.  
Build on reliable technology 
VMS is built on the strong fundamentals of proven and reliable PLC/SCADA technology. The system is built up in a centralised architecture and comprises standard of dedicated hardware and software for network, PLC/IO plus dedicated hardware and software for SCADA HMI viewer and server computers.  The VMS can seamlessly integrated with Royal IHC suite of automation systems. All PLC's and SCADA computers are connected by a Ethernet bus, which is designed as a ring network. Remote maintenance and assistance capability are included. The suite of products is autonomous ready, the system is prepared for additional HW and SW to enable autonomous operation.   
User-friendly and ergonomically design 
Providing a user-friendly touch screen user interface which can be highly integrated with other control systems like power management sytem (PMS), alarm monitoring system (AMS) or the dredge control system (DCS). The result is a  flexible system that enhances safety and increases efficiency, by providing the operator with a user-friendly, intuitive touch screen focused human machine interface (HMI). The VMS incorporates process overviews for process elements assist in decision making by presenting information on states and operational processes.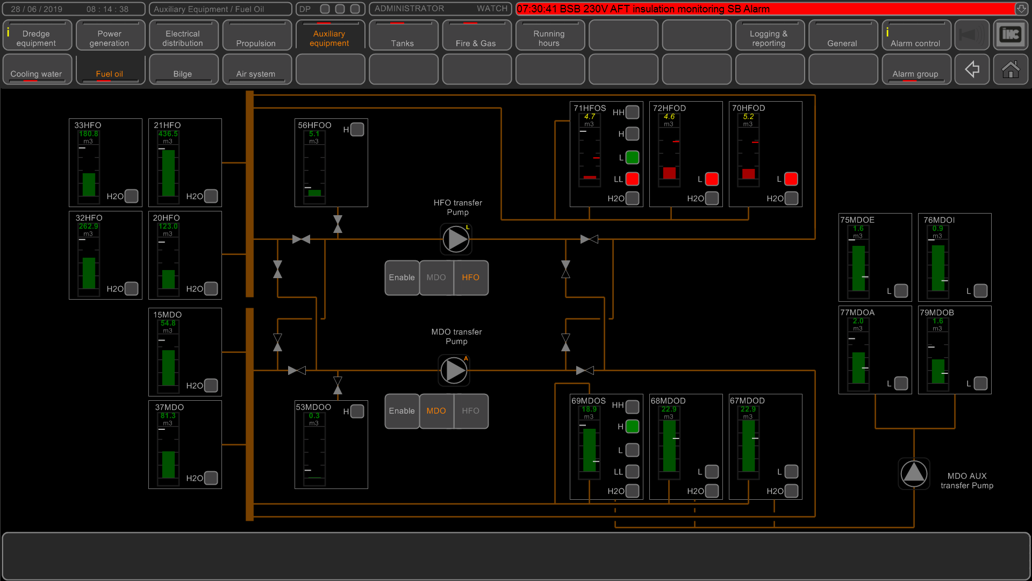 Get in touch and our vessel management system experts will help you.