Cable burial typically takes place in notoriously harsh shallow water environments, that have high seabed drag and lift forces generated by strong currents and wave action. Traditional technologies have often struggled with such demanding conditions and this has led to project delays and increased costs.
The Hi-Traq Jetter has been developed to tackle these shallow water environments and uses the successful 'Royal IHC Hi-Traq Multi Tool Trencher' as its design foundation. The Hi-Traq Jetter uses the same field proven Royal IHC patented 4 track under carriage system, which provides unparalleled performance over difficult terrain such as undulating sand waves and sloped seabeds.
The new Hi-Traq Jetter provides 1200kW of power in a compact and light weight package. The vehicle weighs only 20Te and is capable of burring Ø450mm products into 3.3m trenches. The vehicle is built up in modules that can be rapidly taken apart and re-assembled allowing for shipping of the full vehicle in a single 40' container.
Customer benefits 
low cost mobilisation

designed to be shipped in containers

track driven system allows for Increased operational window

faster trenching in wider range of soils

greater flexibility in route planning due to large travel suspension and auto levelling system.
Key technical features
operates in high currents and waves
trenches tight radii found on 2nd ends
traverse steep sand waves and boulders
4 track ensures no sudden pitching over seabed terrain.
Base vehicle platform
Description

Specification

Dimensions

L4.5m x W3.5m x H2.75m

Weight in air

20Te

Installed power

1200kW total, 6kV VSD subsea direct drive waer pump

Max. seabed slope

±45° (roll and pitch) drive capability

±20° (roll and pitch) levelling capability for vertical trenching

Max. seabed step

0.3m

Min. water depth

5.0m (beachable with shore kit)
Automatic features
auto-heading landing orientation mode

auto-trench rate monitors & optimises tool trenching performance

traction control ensures smooth power transmission to tracks

auto levelling ensure trenching orientation and product grading is optimised.
Jetting package
| | |
| --- | --- |
| Description | Specification |
| Configuration | Twin leg 1-3.3m depth jet legs |
| Jetting power | 900kW at 16bar maximum pressure. Electrically driven pumps with variable speed drives used for optimal pump duty |
| Trench depth | 1.0m - 3.3m |
| Jet leg separation | 0.2m - 0.6m |
| Maximum product | Ø450mm |
| Minimum turning circle | 10m on product |
| Depressor MBR | 3.0m (does not have to be fitted) |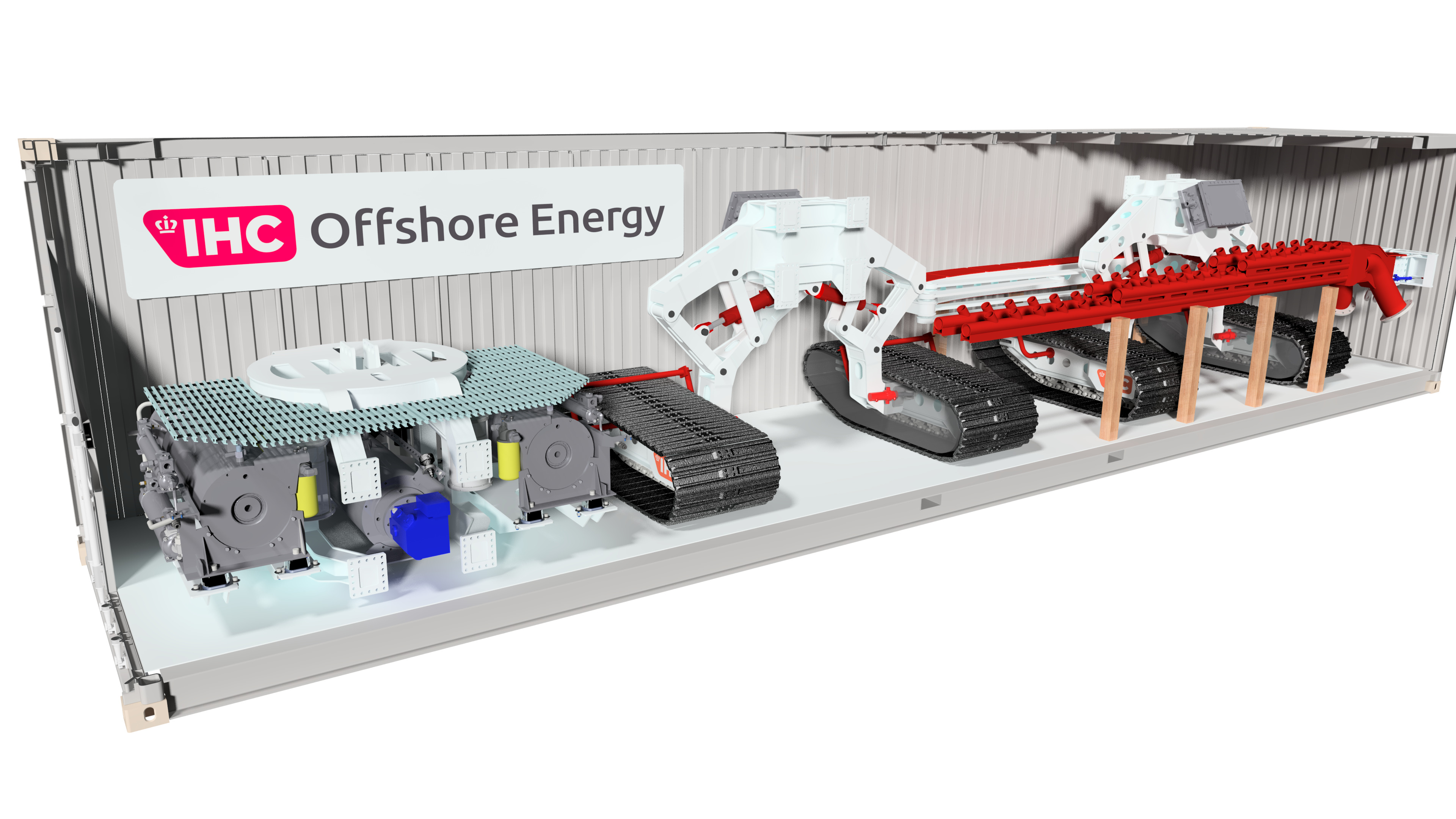 The Hi-Traq Jetter is suitable for shipping in a 40' container.