Electrical and automation
Dynamic positioning-dynamic tracking
The DP/DT system automatically governs a vessel's actuators – propellers, thrusters and rudders – and its power management system in order to efficiently utilize its DP/DT capability. The system's behavior is based on information from environmental sensors, adaptive hydro mechanical models and sophisticated filtering.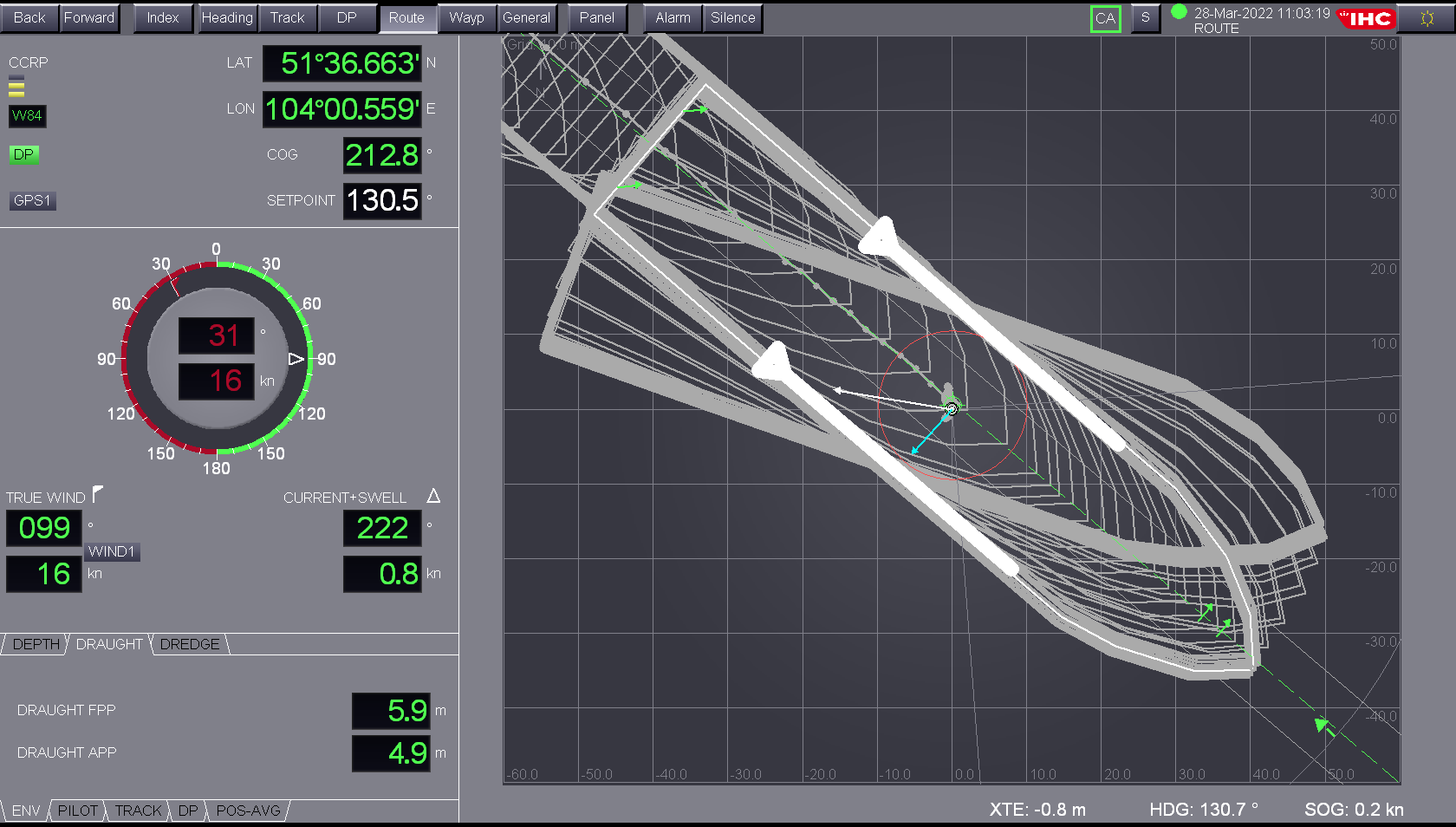 Dynamic positioning-dynamic tracking in short
The DP/DT system makes it possible to sail at low speeds on a predefined track were different dredge force compensation functions can be selected and enabled. This improves the efficiency of the dredging process and reduces fuel consumption. In addition to the low speed sailing functions, a positioning mode is also integrated into the DP/DT system. This allows the operator to let the system keep the ship on position and spend his time to ensure shore discharging or rainbow operations are executed smooth and efficient as possible. This again results in less fuel consumption and lower round trip times.
Benefits of our dynamic positioning-dynamic tracking:
exceptionally short commissioning time: plug-and-play and self-learning characteristics

sophisticated draught compensation designed especially for dredging vessels

seamless integration into the vessels propulsion and mission equipment system

specially designed rainbow function, to stay on position with less fuel consumption

flexible interfacing, were possible additional new sensors can be interfaced

enables accurate dredging according to authority requirement

enhances uptime

saves initial costs and commissioning time

remote servicing, maintenance, commissioning and software upgrade possibilities

reduces wear and tear of actuators

reducing fuel costs and emissions by controlling actuators efficiently.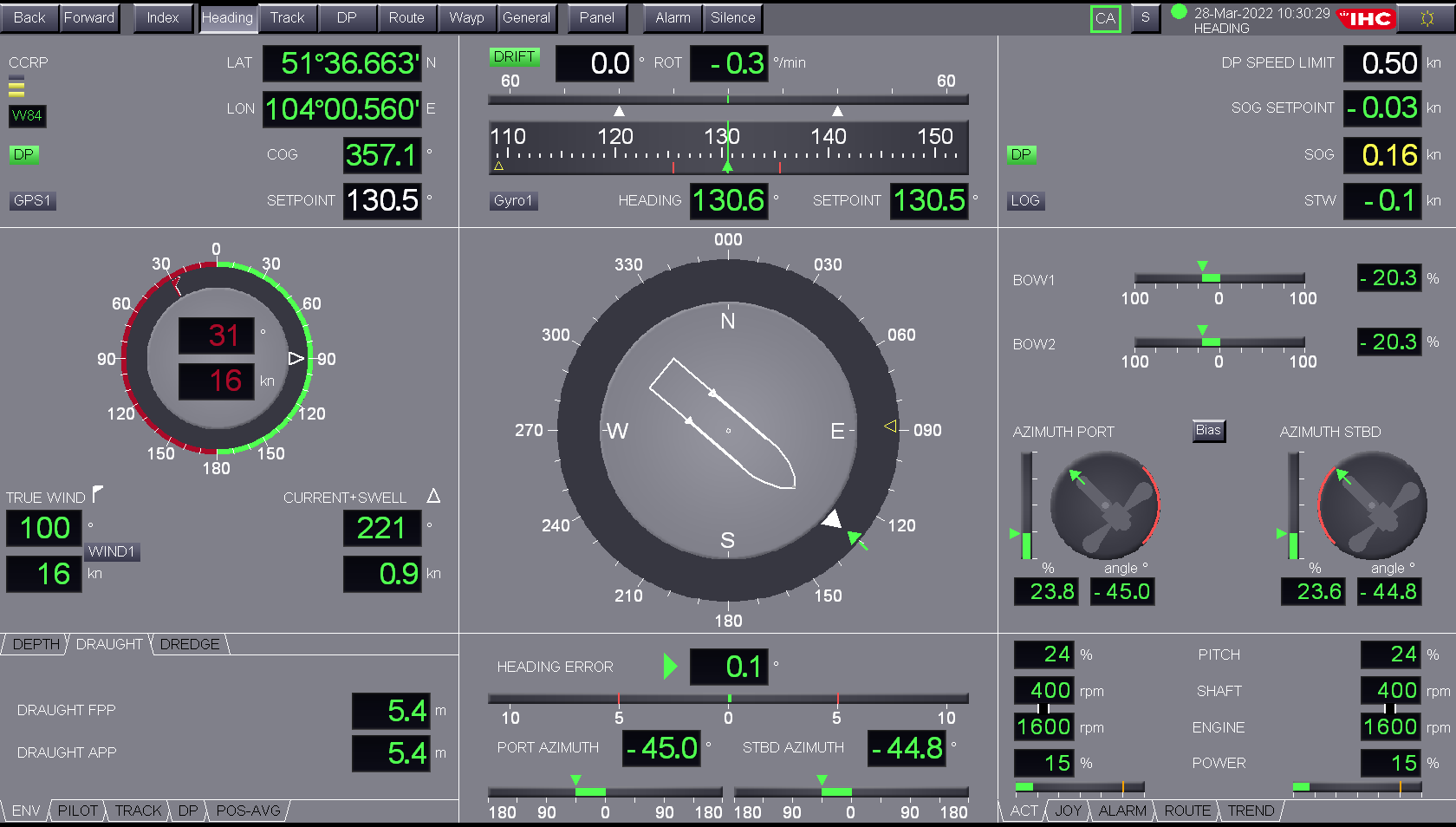 Besides the functions designed especially for the dredging industry, a type approved auto/track pilot is integrated into the DP/DT system. This results in one system which gives the operator the ability to control the vessel from position keeping to full speed.
The following proven Royal IHC applications can be seamless integrated into the DP/DT system:
Suction tube position monitoring (STPM) – calculates and visualizes the suction tube position
Draught and loading monitor (DLM), calculates draught loaded (dry solids) material.
Propulsion control system (PCS), a marine approved system which controls the propulsion system. 
Power management system (PMS), a marine approved PMS which prevents the ship from black-out situations. Where possible the DP/DT system will be limited by the PMS so different control solutions are created. This allows the operator to continue with their process while the vessel stays at the same position without the risk of a black-out.
Dredge track presentation system (DTPS), this allows the operator to create a route which can be send towards the DP/DT system. This allows the operator to automatically dredge on a predefined route which improves the dredging efficiency. 
The DP/DT system is an in-house designed system in close relation with dredging companies. This allowed us to design a system which meets all the requirements which the market asks for. 
Supports the operational requirements of TSHDs and similar vessels
Supports all types of actuators: FPP, CPP, azimuth and tunnel thrusters, and rudders
Supports all types of drives: diesel-direct, electric, diesel-electric and hydraulic
Reference systems: GPS, DGPS, gyro, wind sensors, MRU, USBL, SSBL, SBL, LBL, RADius, force sensors
Efficient, accurate and safe activity-based maneuvering of vessels under operational conditions
Autopilot, Dynamic Positioning, Dynamic Tracking, independent joystick, and DP0, DP1 and DP2 systems on the same certified platform
Processing of external and 'immeasurable' external forces and variable inertia compensation
Intuitive keyboard and conning display designed in cooperation with experienced DP operators
The usage of a sophisticated control algorithm, which limited the amount of thrusts required to control the vessel
Different possibilities of interfacing multiple state of the art sensors
An extended draught compensation function, specially designed for the dredging industry where there are large draught difference between empty and full conditions
Additional options such as a remote control functionality, which can be used to control the movements of the vessel from the bridge wings. Different variations are available, such as with a joystick or with conventional levers
The possibility of using a winch with constant tension as additional thrusters in order to provide more power to the discharge system.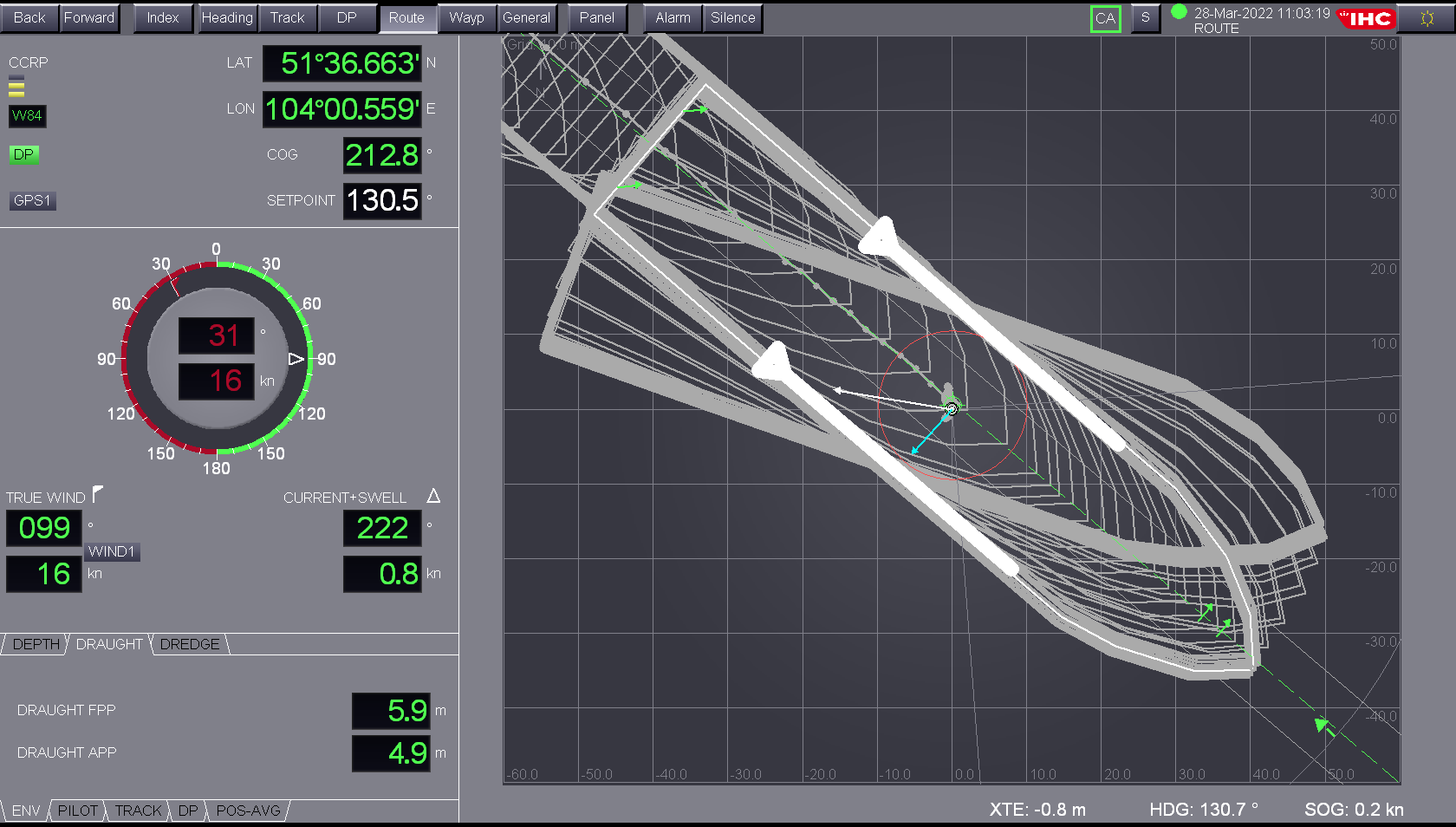 Get in touch and our dynamic positioning-dynamic tracking experts will help you.