Bram

Visser

Data scientist
As a data scientist I am often posed the question if the Internet of things, Big Data, Artificial Intelligence and Machine Learning are a hype or a reality. And I am here to tell you that they are not a hype, they are the future and at Royal IHC we are working hard to implement these "four horsemen" of the forth industrial revolution. 

But what does this look like in practice? In this blog I would like to share more on how we are seeing the implementation of this industrial revolution in practice, and what it means for our work in creating the maritime future. 
Finding an answer to a business need
The needs of the business generally dictate the direction taken. In our case, having spoken intensively with our experts in the dredging field it became apparent that there was a clear need for improved reliability and diagnostics of sensor measurements. As a data scientist this was a perfect opportunity to explore the benefits offered by the four horsemen. 
 
Lots and lots of data
In order to improve the sensor measurements we needed to get our hands on a vast amount of data. Only then could we identify where there was room for improvement and to check our findings. However, the only data available at the time existed in datasets from previous projects that were not large enough for the scope of this project. We were stumped. Where could we find enough data?
 
The answer was closer than we thought. Our Beaver vessels are geared up with onboard logging systems for warranty purposes. By using this as a main data source the project was able to tap into a source matching the quantity and quality needed.  
 
How to compute all of the data
Now that we had the data we needed to be able to properly check our findings we also needed the computational power to do so. The standard laptop or desktop doesn't have the required memory, power or speed to keep up with the demands of Machine Learning. However, there are alternatives. For this project we employed a real-time data processing platform with a state of the art scaling computational cluster. Now we were ready to get to work. 
 
Putting the pieces together to create a digital twin
Taking the data offered by the Beaver logging system and running it through the scaling computational cluster we were able to create a digital twin. Or more specifically a Data Driven Digital Twin or DDDT for short, based on the digital twin concept that was presented in the paper "Increasing Uptime and Performance by using Digital Twins in Dredging Diagnostics" presented at Wodcon 2019.

A digital Twin is a mathematical representation of a vessel or more simply put: A bunch of formula's that connect the values of measurements to each other. In our case we were able to create digital twins of the Beaver vessels included in the dataset.

The original concept required for the formulas to be determined by hand, something which is specialized work and labor intensive. Machine learning offers an alternative by utilizing the data to learn these formula's which will be tailored to each vessel. Allowing for the adaptation of digital twins to the unique natured vessels of Royal IHC.

Figure 1 Signal estimate when all is normal 
How does a digital twin improve the reliability and diagnostics of our sensor measurements?
Well once a sensor gets damaged or breaks the formulas that describe its relation to the rest of the measurements no longer work. In turn the results of the digital twin and the reality no longer align, the severity of which is calculated between 0 and 2. When the severity reaches a high enough level it triggers a search through their relationships to pinpoint the faulty sensor. If it succeeds in finding the culprit it is replaced with a estimate, otherwise an expert is notified to examine the situation. 
Figure 2 Severity of the difference when communication bus was broken
The major benefit is that monitoring an entire Beaver fleet is now easier than ever as the system can detect deviations from normal operation ensuring the best uptime during the warranty period. Logical then that this would make up the next step for this project. Together with a client we are working towards successful rollout over all the connected Beaver vessels. 

For Royal IHC the Internet of Things, Big Data, Artificial Intelligence and Machine Learning are here to stay and offer numerous benefits that enable us to help our customers operate more efficiently and benefit their bottom line. It's not a hype, and we're happy to say it's here to stay!
Written by
Bram Visser
Data scientist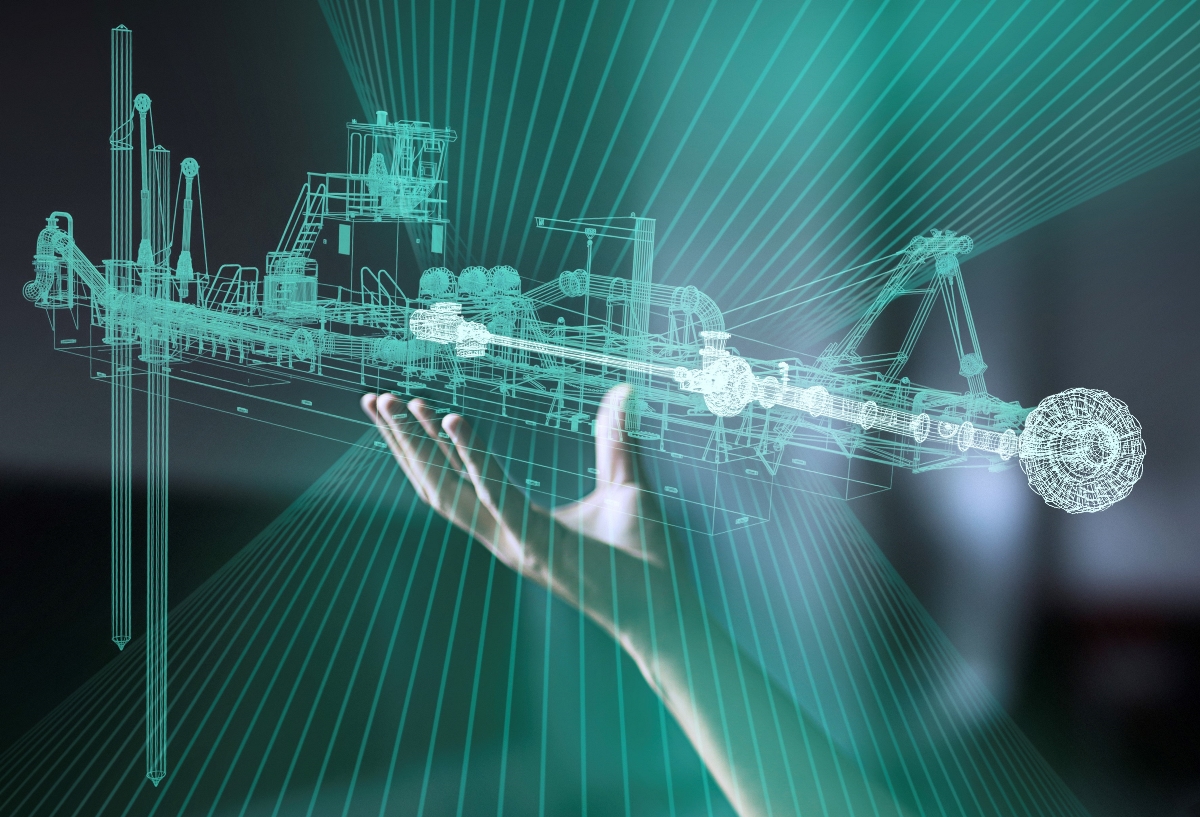 Want to know more about data driven digital twin?
Fill in the form and our experts will contact you.