Hi-Traq™ can revolutionise trenching market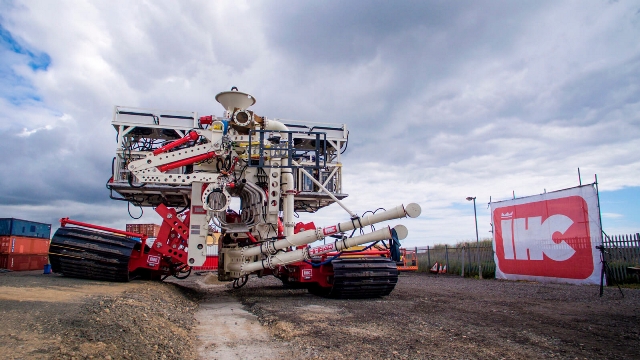 The offshore wind sector is becoming one of the most rapidly growing global energy markets, yet much of the associated technology in the subsea sector has not been keeping pace with demand. 

One such area is trenching operations. Royal IHC's subsea cable trencher, Hi-Traq™, is designed to be a game changer in how these are tackled, as well as deliver increased speed, efficiency and reduced costs.

Identifying the gap

In shallow water environments, the seabed topography can be much more challenging than at deeper depths. In addition, the offshore wind sector demands flexible cable trenching capabilities across the short distances between turbines.

We identified three key areas to focus on during Hi-Traq's™ development. In water depths of up to 500 metres, many harsh factors come in to play. We needed to create a vehicle that was very stable on the seabed.

The ability for Hi-Traq™ to deal with obstacles established the second key criteria: its manoeuvrability. Current trenching solutions primarily rely on a two-track system. 

To prevent this, we proposed that Hi-Traq™ should pioneer a new four-track system which enables the vehicle to move smoothly in undulating terrain, maintain traction over obstacles and enable short radius turning.

The third issue that we identified was the variable soil conditions that the equipment must trench through. To combat this, the vehicle has both mechanical cutting tooling and jetting equipment configurations to deal with a wide range of seabed types.

Developing the technology

As part of the research and development process, in 2014 we created a demonstrator vehicle and a purpose-built test track that simulated subsea terrain. This enabled the stability performance of Hi-Traq's™ chassis to be assessed, and establish its manoeuvrability, hydraulics and control systems. 

Our approach to innovation has enabled new technologies to evolve, such as the crane dampening system, which negates the need for a dedicated launch and recovery system. 

Finding opportunities to enhance operational efficiency with Hi-Traq™ has been one of the core benefits to the rigorous land trials undertaken by Royal IHC. Tests, for example, have shown considerable speed advantages over traditional equipment.

Fit for purpose

The current Hi-Traq™ has been designed for the rental market, which is a unique proposition for an equipment manufacturer. However, we believe that this approach will reduce the level of financial burden and provide enhanced opportunities for our customers.

We are also confident that the patented technology contained within Hi-Traq™ will deliver unsurpassed trenching performance in the market for a long time to come and represent a real step-change in the market.
Written by
William Stephenson
Senior sales manager – Cable lay & rentals
Our specialists are happy to answer any inquiries you have, reach out to them here.