Improved sustainable performance with methanol-fuelled cable lay vessels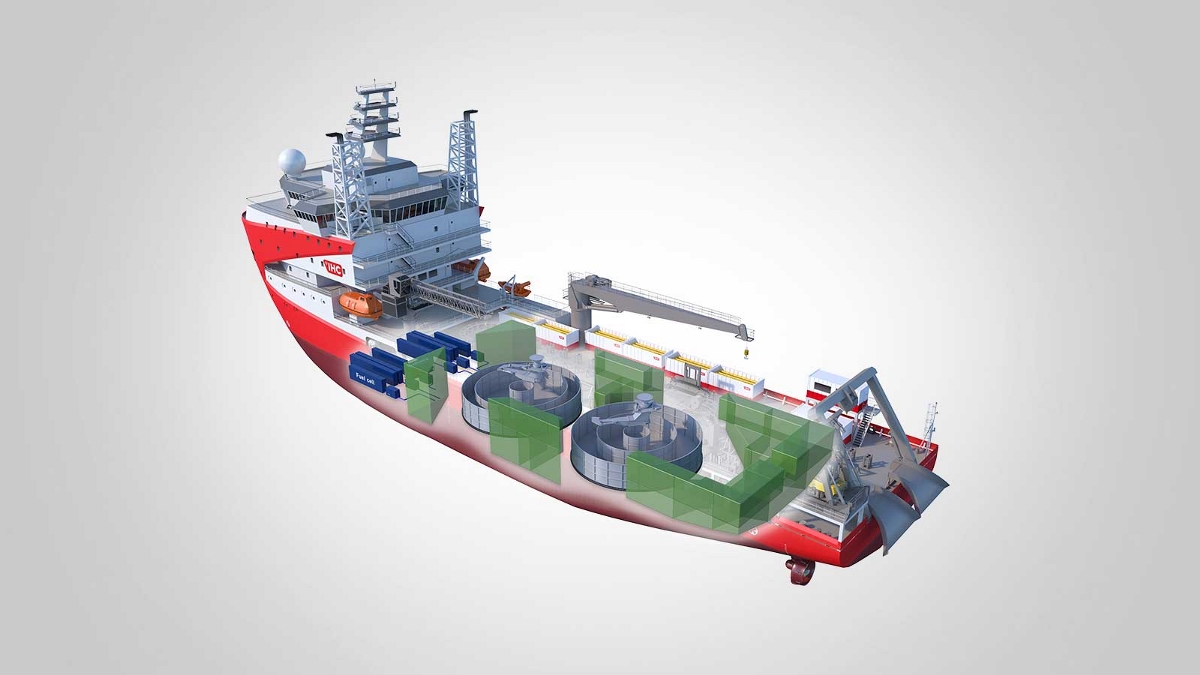 In one of our previous blogs, we looked at methanol as a potential 'clean fuel'. Royal IHC is exploring the use of this fuel in our work vessels and is participating in sector-wide cooperation projects in this area. We would like to focus on the potential for methanol in the offshore market, and in particular, inter-array cable-lay vessels (CLVs). 
Royal IHC delivers reliable, integrated solutions that improve operational efficiency and create a platform for a more sustainable performance. In the offshore wind market, we now offer a sustainable and innovative solution, having developed several zero-emission concepts for CLVs. 
This unique concept allows for the integration and use of methanol in a CLV, overcoming the challenges related to safety (such as toxicity to humans, explosion risks and fuel handling) while ensuring an efficient vessel operation. At the same time, it significantly reduces harmful and greenhouse gas emissions. One of the vessels now fueled by methanol is the Royal IHC inter-array CLV (IHC iCLV4000-22).
Why methanol?
Methanol is predicted to be one of the key fuels in the future renewable fuel mix, along with other options such as hydrogen, ammonia, liquefied natural gas (LNG) and liquefied bio/synthetic gas (LBG/LSG). 
In ambient conditions, methanol takes liquid form. It requires the same volume of storage space as LNG (when including the storage systems) and can be integrated in bunker tanks in a ship's structure. This makes methanol a feasible alternative fuel for complex working vessels without heavily affecting the purpose of a CLV. 
Our concept design
The Royal IHC inter-array CLV has a total capacity of 4000t cable payload with two under-deck basket carousels. The smart routing of the cable offers the flexibility to lay cable over the port or starboard side and allows for simultaneous cable loading. The storage of the carousels below deck leaves ample deck space to store containers and a 50m quadrant track. This results in a fit-for-purpose vessel with full integration of Royal IHC's cable-lay equipment and the vessel design.
If we compare the concept design of this vessel with a conventional one based on marine diesel, it clearly shows that full functionality, autonomy and dimensions are sustained.
The methanol-fueled Royal IHC inter-array CLV is designed to maintain autonomy for 30 days without increasing the vessel size. The general arrangement offers sufficient space below the deck to accommodate the fuel storage tanks. This ensures the required autonomy and an optimal operation, without affecting the cable-lay equipment arrangement or the accommodation areas.
Moreover, safety precautions have been taken into account during the development of the design, which complies with the official rules and amendments of the IMO on low-flashpoint fuels. Complying with these codes and following the alternative design route will lead to equivalent levels of safety for the crew and the overall operation (when using alternative fuels compared to conventional fuels).
Thinking about emissions
In our concept design, we decided to select high-temperature fuel cells, such as Solid Oxide Fuel Cells (SOFC). We see SOFC as the optimal choice, although it is not yet commercially available. SOFC has a higher efficiency than internal combustion engines and emits no harmful emissions. An energy storage system is used in combination with the SOFC to ensure that the load response of the vessel retains sufficient dynamic capabilities. Other types of fuel cells require more extensive pre-treatments, reducing overall system efficiency.
Methanol is a clean fuel, which contains no sulphur. Its use in SOFC results in near-zero nitrogen (NOx) and particulate matter (PM) emissions. Renewables ('green methanol'), such as bio-methanol and e-methanol reduce CO2 emissions by about 85%. However, production volumes are still small, as biomass is limited. At the same time for e-methanol, carbon-capturing technologies are still in development. In the meantime, 'grey methanol' can be used, as the tank-to-propeller CO2 emissions are comparable to other fossil fuels.
Royal IHC's continued innovation activities
Zero-emission concepts for various vessel types are a fundamental element of Royal IHC's sustainable performance activities. Driven by innovation, we are actively cooperating with different stakeholders in the maritime industry to provide the most efficient and sustainable solutions for our customers. We'd like to hear from you if you want to join us on this journey and find out more about our developments in methanol-fueled CLVs.
 
Written by
Beatriz de la Obra
Product Manager Offshore Vessels
Discuss what innovative solutions we can provide you with, and get in touch